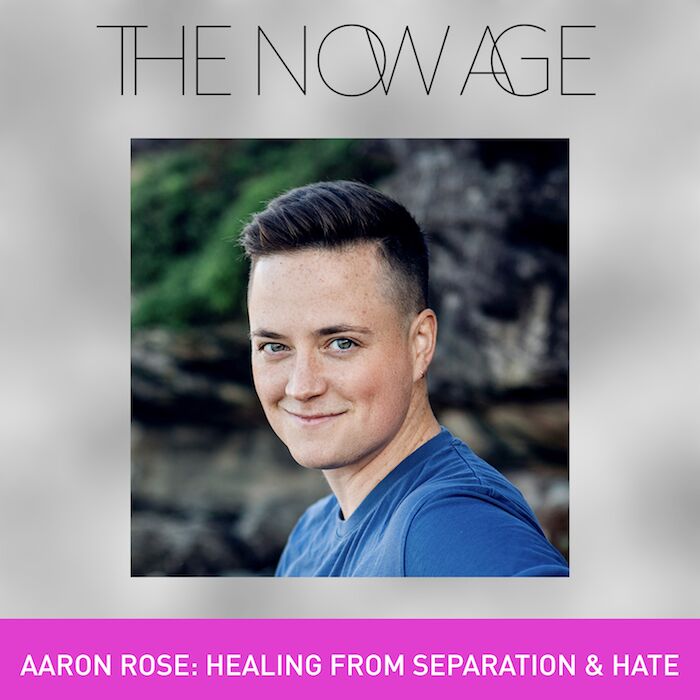 With Ruby Warrington of The Numinous
"This episode features an interview with diversity & inclusion expert Aaron Rose and gets deep into the weeds of our collective healing process around divisiveness and hate – the root of which, Aaron argues, lies in the of pain of separation and resulting fear of 'otherness.'
Something of a 'millennial Marianne Williamson,' Aaron's work focusses largely on explaining how this pain / fear manifests in our reality as political scaremongering, media stereotyping, institutionalized racism, and exploitative capitalism – and that, in seeking to address any of the above, we must first look at how these systems have taken hold and become embedded within ourselves."
With Kate Northrup and Mike Watts
"One of the beautiful souls I came across on Instagram (my favorite place to discover new people doing good work) is Aaron Rose.
I found Aaron captivating from the moment I started following his account, not only because he's a beautiful writer about topics that are hard to talk about, but because despite having been through so much as a gay transgender man growing up in a devout Catholic family, light and love shines out of his eyes in a way I can feel radiating out of my phone.
We invited him on the podcast to take the conversation out of the comments, so we could hear one another's voices and go deeper."
with Michael Ventura of SubRosa
"Aaron is a speaker, writer, activist and transformational coach. His work allows people to examine their unconscious biases, and peel back laters of programming that prevent them from moving through the world with a mindset of love, unity and equality. In our increasingly divisive and fear-fueled world, this kind of work is absolutely essential.
In this episode Michael and Aaron discuss a variety of subjects including the proverbial question of why can't we all just get along, how internal healing results in an improved external reality, and the importance of clearing out the past (including that of our ancestors) in order to move forward."
With Marshall Dunn
"Aaron Rose is an inspirational educator, writer & speaker trailblazing for social change. Aaron knows the challenges that come with inclusion & diversity - but this propels his inspiration to bring people closer together and see our differences as strengths. We had such a thoughtful conversation around hope for the future, re-imagining love and how the global community can continue to rise up and come together.
Aaron is one smart dude and a guy to keep an eye on! He's got a huge heart with a whole lot of courage."
Recovering From Toxic Masculinity
By Aaron Rose for The Temper
"At a time when we're reeling from and embracing the seismic shifts of the #MeToo moment, many people of all genders are asking: How do we stop the prevalence of toxic masculinity and collectively heal? Viewing this social change as a recovery process, much like the one you experience as a person in recovery from addiction, provides a path forward.
As a diversity and inclusion educator who works with individuals and organizations across all industries, I hold space for people's reckoning with their role in collective patterns of exclusion and violence—including racism, self-hate, and toxic masculinity.
I also practice what I preach and teach: Like any other person in the world, I am in an ongoing process of releasing myself from old biased ways of thinking and acting. And as a gay trans man who has experienced both the violence and the privilege of the patriarchy, I have a particularly in-depth understanding of toxic masculinity and how to cultivate its alternative: Conscious masculinity."
Choosing Compassion in a Callout Culture
By Aaron Rose for The Numinous
"With 15 years working as a facilitator, educator, and consultant in the field of "Diversity & Inclusion," my overarching mission is to heal our world's generational patterns of separation so that we can all thrive as our authentic selves. Though always important, this work has of course taken on even more urgency in the escalating polarization following the 2016 election.
But in the last few years I have had to rethink some of how I was originally trained to approach this work. Namely, that relying on a callout culture of shame and dehumanization—however subtle or justified—as motivating tools of change, will never resolve the isolation and exclusion we ultimately seek to address.
Today, I no longer take to social media with fear and contempt to catalogue the ways in which others are letting me down. I've shifted my focus from what we're tearing down to an approach that does not calcify divisions but instead catalyzes connection. This does not mean releasing people from accountability or never speaking up against injustice. It simply means setting the intention to treat no human being as if they are disposable, even if they are failing to honor our humanity."